Nasty Noah, real name Noah Stutz, is a streetwear fashion influencer and designer. His primary projects up to this point have been the Revenge x Storm footwear line and his Storm clothing line.
As you will see below it looks like the footwear is coming back in a big way, and only time will tell how far Noah takes his potential in the fashion world.
Recently modeling for Nike / Matthew Williams and releasing sporadic Storm clothing pieces have been a couple of the recent highlights proceeding the fascinating story that is the footwear company of Revenge x Storm.
| | |
| --- | --- |
| Full Name | Noah Stutz |
| Birthday | – |
| Born | – |
| Based In | Los Angeles |
| Occupation | Fashion Influencer |
| Net Worth | $1m |
Official Instagram Account
Noah's story starts a bit similar to a few others in that he jumped to popular culture by a project and association with Ian Connor.
The History of Revenge x Storm
Revenge x Storm is a shoe company co-founded by Noah Stutz and Ian Connor in late 2016. The name came from: Revenge (Ian Connor) x Storm (Noah Stutz).
While many people credit the sneaker design and brand to solely Ian, Noah was the main designer and creator of the shoe design.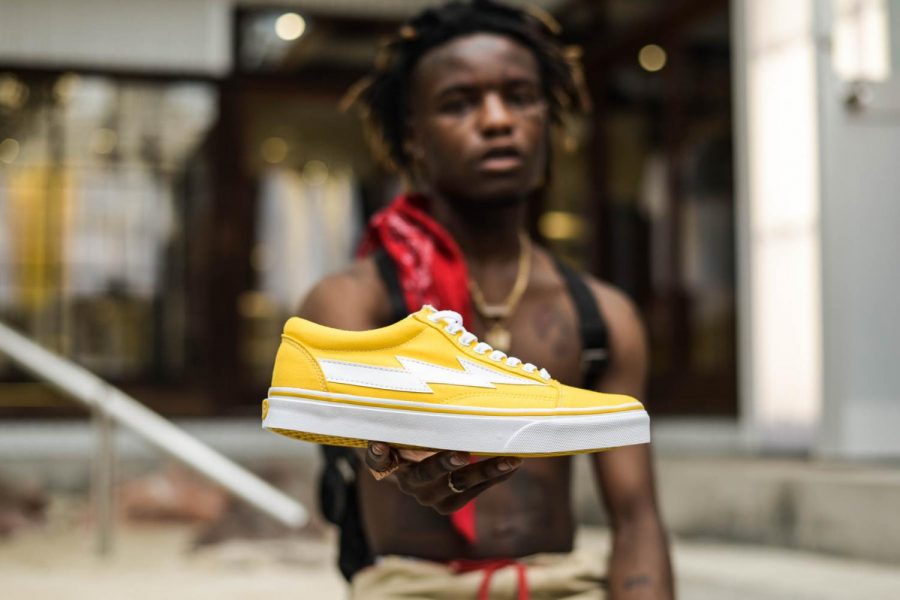 As stated in an interview with "florence forever", Noah recalls "I was 17, I was in a community college class, just drawing on my vans. It was a history of rock class, I wasn't paying attention, I was sitting like this drawing on my shoes, and then instead of putting the little line on em, I put the lightning bolt, and then I went home and got some vans, just cut the stripe off, got some leather and some glue and made the first pair. Literally the next day my bro Ian hit me up asking "Where are those shoes from and can you tell me without trolling."
Noah messaged Ian back, "I made the shoes, well I put the white bolt on them." Noah states that when he created them he wasn't intending on creating a brand, just creating that shoe out of boredom.
When requested to fly out to NY with Ian, Noah's parents were not fond of him flying out since he wasn't 18 yet. To keep in mind, Noah was still working at a grocery store right up to the release of the storms. He needed to keep working to pay for the samples of the original storms, which would lead to the brand's first jumpstart.
Once they had the sample shoes, the brand started to blow up very quickly with Ians help.
Kylie Jenner posted a picture rocking the sample storms, coincidently Noah was working at the time. He even remembers his phone buzzing so much his leg started shaking. When he started seeing people wearing them, he realized the shoe would go crazy.
The first storms were officially released in 2017, and they sold out instantly. They were seen on every celebrity, rapper, athlete, and everyone in between.
Revenge x Storm would go on to release many new colorways of the shoes, even collaborations with the likes of YG.
While new pairs were being released a Revenge x Storm skate team was assembled, highlighted by skaters Vincent Nava (RIP), and Miguel Killagomez.
Following this era Revenge x Storm held many pop-ups all around the world.
In 2018, a set of camo storms were released and would go on to be one of the last official Revenge x Storm releases for the next couple of years, besides the LA exclusive pack.
What followed next would be the downfall of Revenge x Storm.
In 2021, Revenge x Storm could have been sitting at the throne of small sneaker brands since they were years ahead of the reinterpreted trend of classic sneaker models.
Of course, classics like the Bape STA and the Ari Menthol 10 were way ahead of everyone, but the mainstream trend didn't start until early 2020.
One main factor that led to the downfall of the brand, the mass production of unauthorized revenge storms being produced and sold on Taobao in late 2019. Noah tweeted out a set of words about the issue in December of 2020, "Revenge x Storm was pretty much sabotaged by the people who was tryna "help" us at the start of it." Here he conveys that the people who he was surrounded with ended up screwing him over. "The people who were supposed to help us instead made fake shops and sold under the rug at the times when we weren't trying to drop anything because they were greedy (and we didn't want to oversaturate our brand by dropping too much).
In this statement, he goes in-depth and explains how he wanted to slow down on releases to not oversaturate the brand. The factories then kept producing them and started to sell them on TaoBao for cheap, profiting all the money. This would lead Stock X and Goat to remove Revenge x Storms altogether. "Version 2 is ready and designed and made… just waiting to get everything perfect on our end… so we don't let the same f**k shit happen." This was a big statement as he officially lets us know that the Revenge x Storm V2 is designed and produced, and now they are just perfecting everything.
In his final tweet, he says he was not proud of how many fakes there are compared to the real ones, and to not purchase anything revenge storm him and Ian don't promote.
Although the mass production of unauthorized storms was the main effect of the downfall of the brand, Ian Connor's countless accusations of sexual harassment and rape didn't help.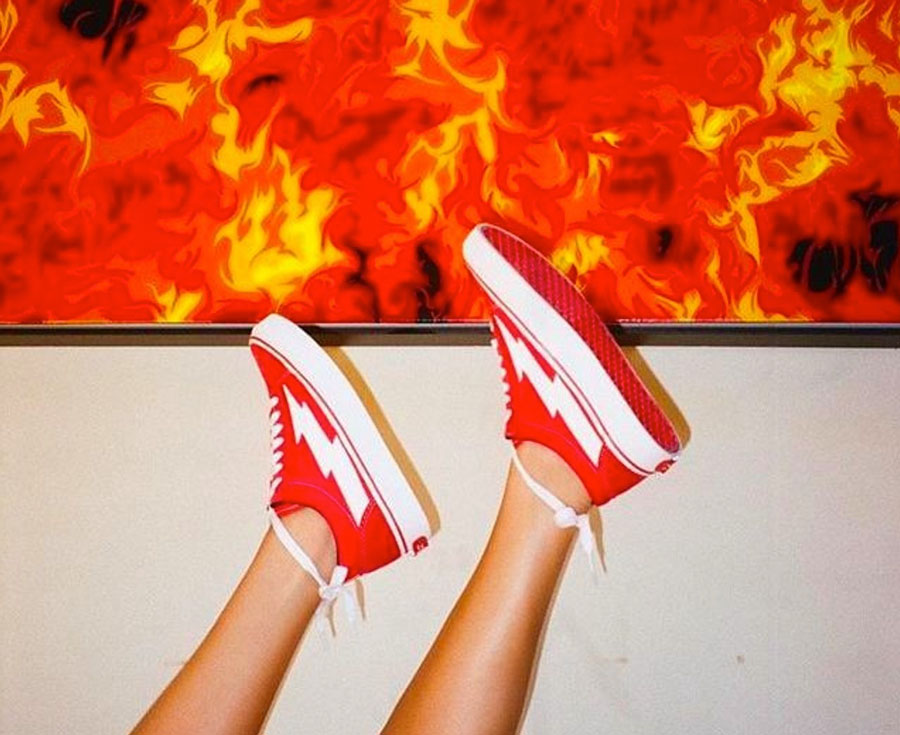 Because the mainstream world views Revenge x Storm solely as Ian Connor's brand, the cancel culture would hit the shoes. Often called "rape vans" by people in the sneaker and streetwear world, even people outside of the culture, the shoe now has a horrible act attached to it. But one thing to know is that Ian Connor is NOT the founder of the brand and he only made them popular and mainstream. So before you go and comment on Twitter "rape vans", know your facts.
One thing we can look forward to is the future of the brand. Noah is the only one consistently speaking on Revenge x Storm, as Ian is currently focusing on his brand Sicko. Noah did state Revenge x Storm was returning in summer 2020, then September 2020, and most recently, 2021.
As the summer and fall dates never came to fruition, I highly expect a release in 2021.
When doing research, I discovered a lawsuit – Revenge X Storm, LLC v. Dopetrade, Inc. – filed on September 21, 2018. This lawsuit was filed in the California Central District Court under infringement as the cause of action. "Dopetrade" was producing fake storms which led Revenge x Storm and their lawyers to take them down. The date this case was terminated was February 19, 2020.
This case being terminated in early 2020 is what led me to believe that Revenge x Storm was planning a return in 2020, but something must have halted the process. I have been in talks with Noah on Twitter about if I should post Revenge x Storm leaks. Noah's response to me was "Just don't want the fake people to see them and steal our design, We are getting rest trademarks for the world and don't want anyone to mess with that."
The goal is to keep the new models under wraps so the same unauthorized issue doesn't happen. Some of the unreleased models include revenge storm v2's, revenge storm hi's, stormdidas, and storm blazers. I have contacted Noah again on if he would like to speak on anything, but he has not responded at this time. Revenge x Storm was slated to return in 2021, but nothing has been announced yet.
Revenge x Storm 2022 Update
After a long time of silence and dealing with the issues mentioned above, it seems a new and improved Storm x Revenge model is ready to be released in early 2022, as pictured by Noah on instagram and twitter.
Still no official date yet, but we'll what happens as it gets closer to February.
This article is a collaboration post with BLIINNGG. Be sure to check out the launch issue of BLIINNGG MAGAZINE, now available as a limited edition NFT.