If you've been opening Twitch and YouTube a lot recently, you may have seen Adin Ross' face a couple of times. You keep seeing it everywhere on a couple of videos, then BAM! You see him having a FaceTime conversation with Travis Scott!
So, who's Adin Ross?
Let's see who he is, how his career started, his net worth, and some bits about his personal life!
Adin Ross: The Rise of The Twitch Streamer
Adin Ross is both a YouTuber and a Twitch streamer. He started his career by uploading videos of himself playing popular games, where his two primary choices were NBA 2K and Grand Theft Auto. He created his YouTube channel in 2014, but he hadn't started posting videos until 2019.
By then, Ross was mainly known for trolling celebrities and throwing controversial jokes here and there. He quickly rose to fame in 2020 when he earned his Twitch partnership and started hosting Tyceno and Bronny James in gaming videos.
Over time, Ross started hosting rappers in his streams and gaining crazy views. He laid low on gaming and started creating freestyles and pranks with his invited celebrities.
Now, Ross is sitting close to 6 million followers on Twitch, and his Instagram account has a hefty list of 2.5 million followers.
How Did Adin Ross Make Millions Through Games?
People play Grand Theft Auto all the time, so why aren't they making millions as Ross did? 
Well, it's not as easy as it seems. Ross' first step in his career was joining an NBA 2K group called Always Excelling. 
Due to his avid activity, he became a prominent member, gaining millions of views due to his bubbly nature and humorous jokes.
Shortly after that, he created a hashtag called #make2kfunagain because he didn't like the 2K21 version. The hashtag got crazy shares, becoming the first trend on Twitter worldwide. That hashtag got Ross into a real-life meeting with Lebron James, then his association with celebrities became a normal occurrence.
Over time, he started inviting celebrities and famous content creators to his game streams, and his GTA V commentary gained him even more views, which quickly translated to millions.
Adin Ross' Biography
Adin Ross is only 21 years old, having been born on October 11, 2000. He was born in Florida, specifically in Boca Raton. However, he quickly moved to New York, but he didn't stay there for long. He eventually settled in Three Rivers, California, attending his high school in the state.
On multiple occasions, Adin Ross mentioned that he used to skip his school for Twitch streams. So apparently, he had his career path laid out in front of him from early on.
What Is Adin Ross' Net Worth?
Adin Ross supposedly packs a hefty net worth of $2 million. His income mainly comes from his YouTube channel and Twitch, where he has millions of followers. 
Ross makes nearly $3.2 million a year from YouTube only. Add that to what he makes on Twitch, and it's not hard to figure that he's easily gained the millionaire label.
Thanks to his huge income, Ross is able to dedicate 10% of his monthly income to charity.
Who Is Adin Ross Dating?
There are huge rumors that Adin Ross is dating Corinna Kopf, who is a fellow YouTuber. However, Ross allegedly denied the claims, saying that he likes Corinna too much to go into a relationship with her.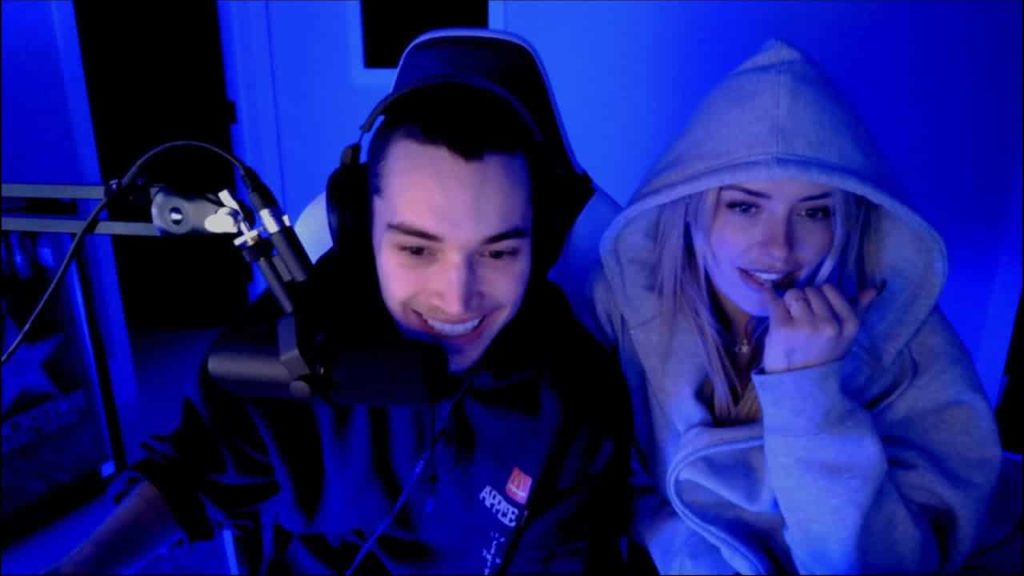 He said that he's afraid he'll ruin it and that online relationships are hard to maintain and keep alive.
Even though Ross said that himself, a lot of viewers were convinced at one point that the pair were dating. Corinna ended up distancing herself from Ross saying that he had a toxic fanbase.
Adin started dating PamiBaby in April 2021, they are still together now.