Supreme is known for being the most popular streetwear brand in the entire world, but they are also known for being a bit unconventional when it comes to common advertising and marketing methods. They basically founded the concept of hype. While many brands around the world spend upwards of millions of dollars on advertising, Supreme is known for rarely spending a single dollar on advertising.
While Supreme has several retail locations all over the planet, they are still a huge ecommerce company and sell all of their available products on their website. Their lack of advertising budget is just another detail that sets them apart from most other comparable companies.
Many would say that they dont need to spend any money on advertising since everyone knows them, but outside of the younger aged generations, Supreme is actually not very well known.
How much did Supreme spend on advertising in 2018?
Supreme actually did a few things differently when it came to advertising in 2018, although the details will probably make sense when its all explained. They are certainly not spending money on advertising because they want more sales… They could very easily produce more product and kill the reseller market if they wanted, but the low quantity – high demand nature is what makes Supreme itself.
In 2018 Supreme spent about $585,000 on advertising. In comparison, Gucci spent over $65 million on advertising in 2018.
Apart from a very small number of random ads in UK I-D magazine, Supreme spent money advertising on exactly 2 things: Their historic front page ad of the New York Post, and to promote their new skate video "BLESSED". While the blank front page ad pictured below cost them hundreds of thousands of dollars without a doubt, they kept the entire ad space blank apart from their box logo right in the center. The ad buy really speaks to Supremes view on marketing itself, and similar to a lot of moves that supreme makes, the ad buy itself was reported on by countless news sources making the ad seen by way more than just the New York Posts reader base.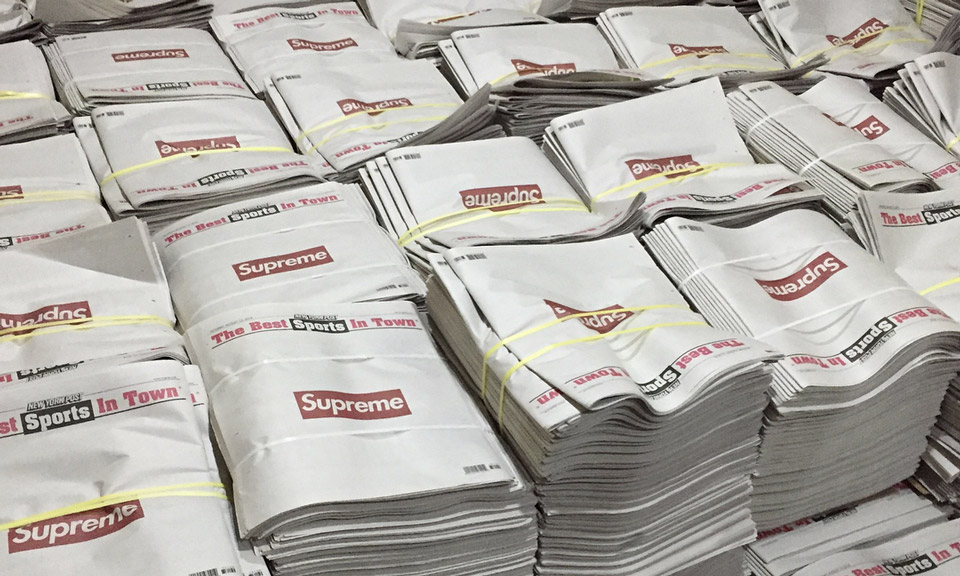 As we mentioned the other advertising expense was to promote their "BLESSED" skate movie, which honestly may have been a effort to promote some of their team riders more than their own brand or to promote sales.
Supremes only digital ad spend was spent on the Thrasher website alone, and included display ads and a site wrap.

Some Unconventional Advertising
On the other end of the advertising spectrum, Apple spent upwards of $200 Million in 2018 on advertising, with the majority being on TV. One of the years ending holiday focused TV spots sort of surprisingly featured a supreme box logo sticker on an Apple laptop. The entire video was animated as pictured below and the logo was only briefly seen, although seen by potentially millions of people. We doubt that supreme paid for this placement, and that apple would even allow that to happen, and Apple saw the benefit to its own reputation by appealing to the younger audiences.