Steve Jobs, founder of Apple, commissioned a super yacht towards the end of his life that was to be designed to his own specs and implement his own ideas. There is no record of Jobs owning any other yacht before that point, or boating much at all. The yacht was designed by Philippe Starck's company Ubik and then constructed by yacht builder Feadship. The yacht, which was named Venus, was 256.6 ft when finished and features a striking design that sets it apart from a lot of other comparable sized yachts of the world. The designer Starck shared a common interest with Jobs in minimalistic design, and the end result is a truly incredible boat.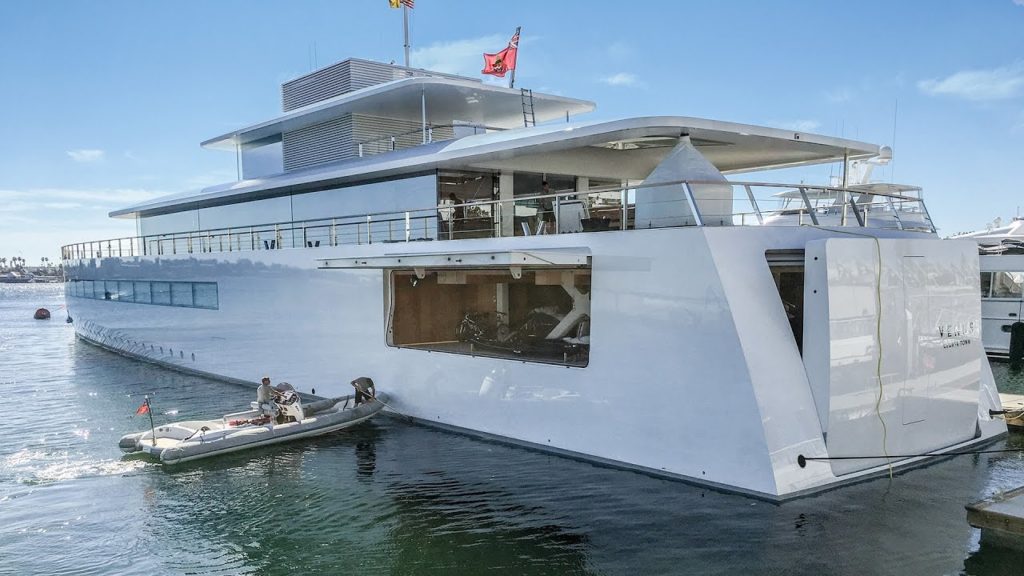 Tragically, Jobs passed away in October 2011 before the yacht was even finished being built. Construction continued and Jobs' spouse and family inherited the yacht Venus. The value is right around $150 million, and features many striking features to go along with the overall bold design. There are several doors and compartments that open to expose storage and lounge areas. The sharp lines featured all around are a bit different than the usually flowing curves of most yachts.
For a very brief amount of time in 2012 Venus was impounded in Amsterdam over a payment dispute with the designer Philippe Starck, but it was quickly resolved by the Jobs estate. It became known that there was not a very detailed contract between Jobs and Starck due to a high level of trust and respect between the two.
The yacht has been called a floating ode the the minimalistic design style of Jobs and Starck. Similar to many apple products over the years, the boat is made entirely of aluminum. The yachts command center features seven 27 inch iMac computers as the monitors for all controls of the yachts system. Its unclear exactly what model was used but we wonder if they have changed them out as many new Mac models are released each year.
The yacht has been seen all around the world in many famous ports, and is enjoyed by the Jobs family. Its too bad Steve could not have lived long enough to enjoy his yacht concept get completed and hit the water.