If you are currently or recently have been of college age, you have probably heard of the identity known as 'I'm Shmacked'. We are going to explain the full story here, starting at the very beginning, and revealing many new pieces of information about the history and current state. The slogan started as and still currently claims to be on their instagram account as "a new way to scout colleges". While the concept may have started as an original idea, and gained national attention there were several situations along the way that left Imshmacked in its current shambled state.
IMSHMACKED, I'm shmacked, or Imshmacked as we will refer to it, was started by Arya Toufanian and Jeffrie 'Yofray' Ray many years ago, although as you will learn only Arya Toufanian is still currently involved.
The Beginning Starting in 2012: College Party Videos
In a now deleted video, the first Imshmacked video was filmed in 2012 at Temple University. After this first video and then the addition of another 20 or so at other colleges, the Imshmacked brand started to get national attention for their organized parties and accompanying party videos. Once quickly gaining viral attention and getting hundreds of thousands of views on their videos, the New York Times published an article titled "University of Shmacked" in 2012. Each new school involved with an event and accompanying video after this seemed very motivated to act crazier than the one before in order to prove their school as being the home to the most wild college parties in the US. Countless teens around the country and even worldwide publicly claimed that Imshmacked helped them with their college choice based on their content.
In 2013, there were some riots or some near-riots depending on who you ask when the Imshmacked camera crew stopped in Delaware for what was later claimed as an unplanned stop. The chaos resulted in heavy police involvement and the schools rugby team being suspended for five years, as reported by Huffpost. Our source says part of the chaos is rumored to be caused by tickets over sold by thousands.
From 2013 to 2014 Imshmacked continued to grow their various social accounts with their party content and hosted paid events, while starting to upset many along the way from oversold venues and cancelled events.
In 2014 several other massive news sources such as Business Insider, and Fox News, reported on the popularity with the youth all while heavily bashing the positive view they placed on underage binge drinking, violence, and even rape culture; All while Imshmacked continued to preach their motto of a new way to scout colleges with official quotes from the brand in each of the published stories.
There were also stories about investors giving money to Imsmacked, including a story involving Mark Cuban that he personally declared as being untrue. Some of the claims of investments were true and they apparently did receive money to grow the brand although the deals details are still unknown at this point.
The Story of a Viral Tweet in 2014 – The Turning Point
There was a tweet from a guy named Chris Scott who barely had a significant twitter following that ended up going viral and being reposted and referenced around the world and here's what it was:
"Oh hi Becky who refused to kiss me during spin the bottle in 6th grade & now wants to play "FarmVille," looks like tables have fvcking turned,"
This tweet matters to Imshmacked because after Caroline Moss wrote an extensive article for Business Insider that explained the complete history of the viral tweet and how many people had ripped it off,  Caroline found that the Imshmacked twitter account had also lifted it. She decided to comment on the tweet with a link to her article, which basically led to Arya threatening her with rape and petitioning for her to be fired for 'making fun of Imshmacked'.
Start Of The Downfall
Up to this point Imshmacked had started to develop an extensive history of fraud and upsetting people for tickets sold without venues, over promised parties and selling merch that never even existed. At this point in time in 2014, Imshmacked partner Yofray Ray apologized on Facebook for Arya's behavior. This began the split of the two Imshmacked founders, Arya and Yofray.
Over the course of the next few years Imshmacked continued its downfall.
According to our source, Arya was embezzling money from one of the original investors of Imshmacked and then got sued by him, which led to around 7 months of litigation and resulted in Yofray selling the entire brand to Arya for $200,000 and cutting ties. We were told that Arya borrowed money from his parents to fund the payout with Yofray and possibly the investor too.
Apparently Yofray could see the clear downtrend of the brand and also must have been sick of Aryas antics and lack of business ideas at this point.
Arya Toufanians Version Of Imshmacked In 2018
With the original founder Yofray out of the picture, Arya was left to control Imshmacked on his own. There were some party attempts, again with growing number of complaints and bad turnouts resulting in the current state of Imshmacked.
In 2018 all Imshmacked social accounts have basically gone stale except for the verified instagram account, which barely features any original content at this point relying heavily on people sending in videos with hopes of gaining popularity, and plenty of stolen content from other instagram accounts.
We were told that both Arya and Imshmacked are blackballed from basically all colleges and greek life around the entire country. Whatever reputation or credibility that existed at some point has been been destroyed at this point, with the exception of those who find the verified instagram account and not aware of the full story.
Arya Toufanian Starts His Imshmacked Ambassador Scams
Without Yofray involved, Arya no longer had the capacity or knowledge of how to monetize the Imshmacked brand. He decided to create a fictitious ambassador program with a steep membership fee. With his more than 850,000+ follower verified instagram account he began to approach individuals across the country with an offer of being an ambassador for Imshmacked while representing their own school, with potential to 'make between 35-70% depending on how well they're doing, that's a ball park but they make thousands a month bro' . Check out the screenshots from prospective ambassadors below.
Arya charged between $300 – $1000 for the ambassador program membership and then followed up with basically none of the promised details. Another inside source tells us that he sold the program without any structure and didn't seem to care when he had hundreds of people asking him about the next steps or to define the details after they paid to be part of the program. There were also many instances of individuals opting in to sell paid posts on the original Imshmacked instagram account but then ignoring the follow through of actually posting anything.
According to people who worked with Arya, he did not care about the Imshmacked brand reputation because it focused on college age kids, and according to Arya each student body refreshes every 4 years so the actual brand reputation couldn't be permanently damaged.
The Imshmacked ambassador scam details are extremely similar to Aryas recent and short lived @stocks program, which we extensively detailed on site. The stocks program has since been shut down after being kicked off Shopify and instagram.
Whats Next For Imshmacked?
While there are currently discussions among both @stocks and Imshmacked ambassador program members of lawsuits, we at 5orry are unsure of the legal potential of such claims. We have heard from several individuals that had success discussing the details with their bank/credit company resulting in being able to execute a charge back on the payment made for each of the 'program' costs.
As far as the Imshmacked brand, the extensive evidence of fraud is too broad to ignore at this point. We will continue to document it until all credibility of the brand has vanished. One of the most important steps towards this is Instagram removing their verification and possibly removing their account. At this point the Imshmacked brand only exists as a barstool/5thyear wanna be that exploits college students and their harmful and manipulative tactics need to be shut down.
Message to Arya:
Don't waste your own time sending us another one of your fake legal threats… If there is still any hope of rescuing the Imshmacked brand you need to drastically change your methods and your entire personal though process.
Update October 2019:
The @imshmacked instagram account has been disabled. This has led to Arya basically begging random figures on twitter and instagram for help, here are a few publicly revealed examples below. Any responses references past scams have been dodged with delusion.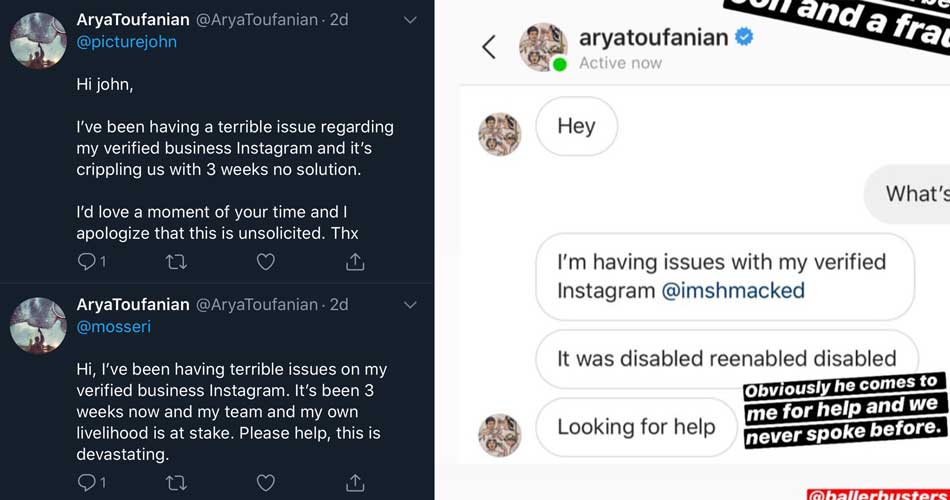 What will Arya and his imshmacked identity do next? Who knows but it's almost safe to say it won't be very impactful without the verified million follower instagram account to promote it.